學會公告
2021台灣食道癌論壇 Taiwan Esophageal Cancer Forum: Into the Unknowns of Esophageal Cancer
瀏覽次數:1016
Call for Abstracts
Participants should fill in the registration form and upload abstracts on http://www.tsts.org.tw/events/submission.php before June 30, 2021.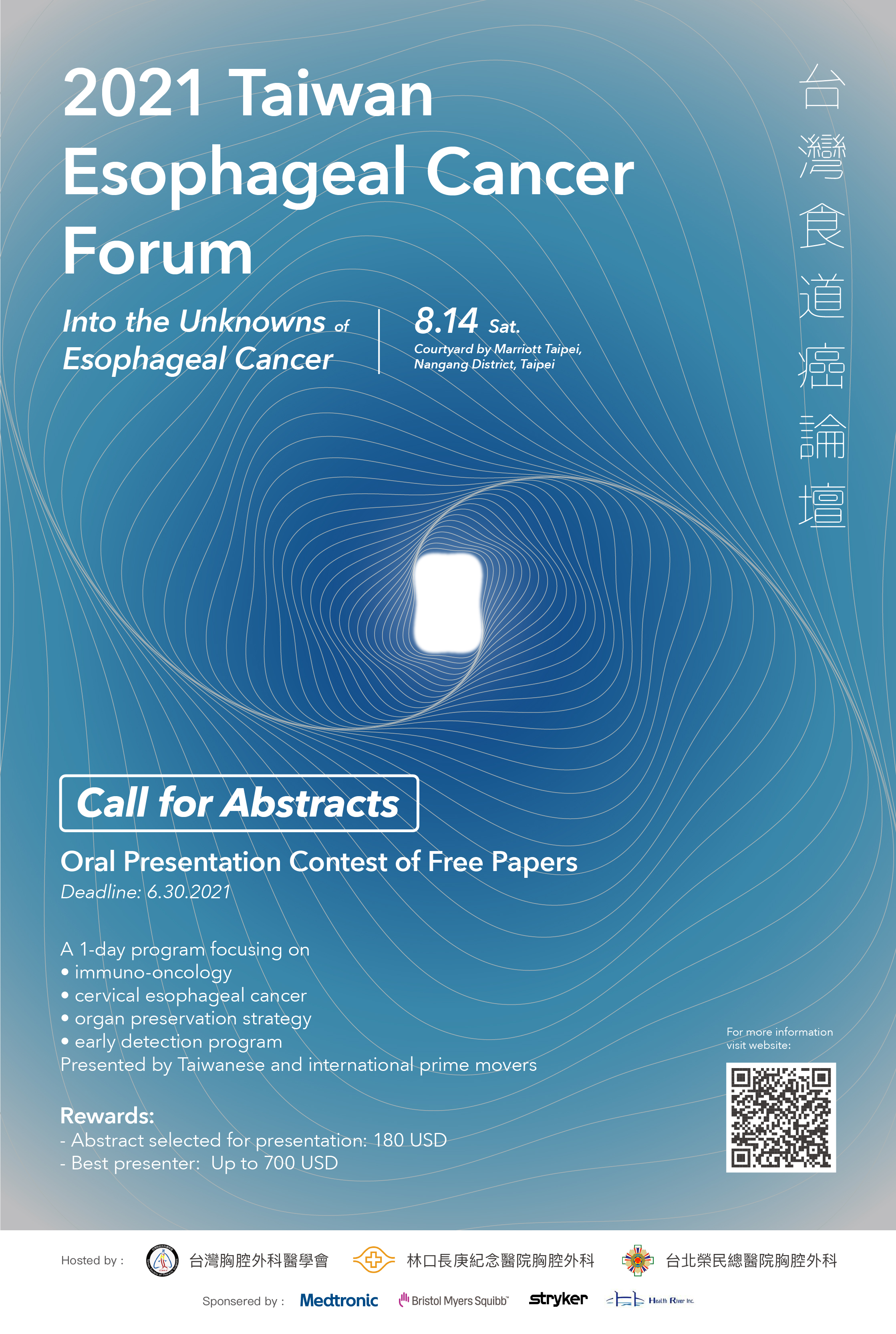 Introduction:
After a successful edition of the Taiwan Esophageal Cancer Forum in 2020 focusing on multidisciplinary approaches, we take it one step further this year by stepping into unfamiliar yet increasingly influential territories of esophageal cancer treatments.
A 1-day program focusing on immuno-oncology, cervical esophageal cancer, organ preservation strategy and early detection program will be presented by Taiwanese and international prime movers of their inspirational contributions to the "war on esophageal cancer".
To encourage young clinical scientists in Asia and trigger scientific creativity, an oral presentation contest of free papers will be organized and presided by an intercontinental jury.
The presenters and their projects will be scored on originality of idea, study approach, clinical relevance, oral presentation and oral discussion.
Guidelines:
Papers are expected to have high scientific quality and clinical relevance

Papers and oral demonstrations will be presented in English

We highly welcome multidisciplinary projects and participants from other East-Asian regions

Only non-published projects at the time of abstract submission are allowed, authors are free to submit their project to any journal afterwards
Instructions:
Abstracts should contain an introduction, objective, methods, results and discussion section in no more than 500 words and 2 illustrations (figure or table)

When the abstract is accepted, the work needs to be scheduled for 8 minutes of presentation followed by a discussion of 7 minutes
Rewards:
All presenters: 180 USD

Best presenter: Up to 700 US

Hosted by :

CHANG GUNG MEMORIAL HOSPITAL,LINKOU

TAIPEI VETERANS GENERAL HOSPITAL

TAIWAN SOCIETY of THORACIC SURGEONS